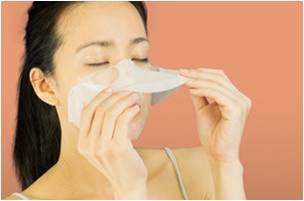 When the face is covered with facial mask, moisture is sealed in the epidermis instead of released out to the air.
The surface temperature of the skin will rise slightly and stimulate circulation. With the high concentration of essence infused, the absorption rate of the nutrients will increase in an enclosed environment.
Using facial masks is a great way to complement and improve the overall performance of your current skin care regimen. They are not meant to replace your existing skin care routine, but to work in conjunction with regular products.
The environmental pollutants and stress can aggravate the aging process. Regular skin care regimen may not be sufficient to protect and maintain the optimum condition of our skin.
Demo Video:
Use after face cleansing.
Remove protective material from both sides of the mask.
Place the mask over the face, starting from the chin area. Adjust mask to align the center of the mask with the center of the skin contours positioning openings for eyes and mouth.
Press the mask lightly with both hands until it adheres completely.
Remove mask after 15 – 20 minutes and gently massage the remaining essence into skin. Post cleansing is not needed.
Apply skincare products thereafter to lock in moisture.
The mask is recommended to use 3 times a week or as needed.
For external use only.
In case of skin irritation occurs, the application stopped immediately.
Avoid applying mask on wounded, inflamed or other uncomfortable skin parts.
To maintain freshness, efficacy and quality apply the mask immediately after opening.
Each mask is intended for single use only. Never use the same mask several times.
Please keep products out of the reach of children.